Advanced SMP Training: Elevate Your Skills to Master Level
You have a foundation now let's level your SMP UP!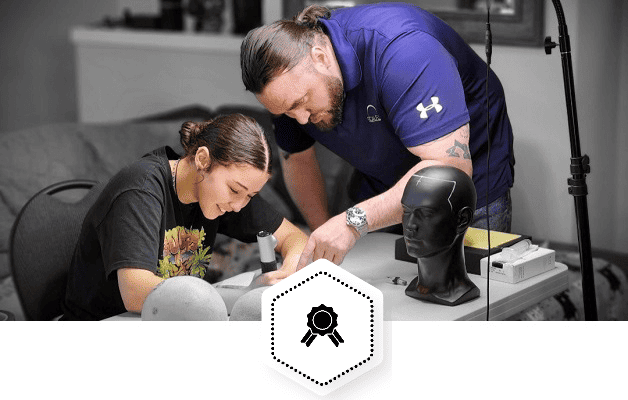 Transform Your SMP Artistry in Just 2 Days

Price: $2,600 CAD
Transform Your SMP Artistry in Just 2 Days
Designed for SMP artists that want to enhance their skills.
Master Hyper-Realistic Feathered Hairline Techniques
Learn the art of crafting undetectably natural hairlines. Our training focuses on ultra-realistic, feathered hairline techniques, ensuring your work stands out with its impeccable, natural appearance.
Perfect Pressure Techniques for Lasting Impact.
Delve into advanced pressure techniques crucial for long-lasting pigment retention. We guide you through the nuances of applying perfect pressure, a key factor in the longevity and quality of SMP results.
Seamless Feathered Blending for Hyper-Realistic Results.
Master the skill of creating seamless, evenly blended results that mimic natural hair perfectly. Our hands-on training will teach you the subtleties of achieving an even and natural blend for a hyper-realistic finish.
Advanced Machine Settings for Optimal Results.
Gain in-depth knowledge of proper voltage and needle settings. Learn how to adjust your equipment for the perfect soft impression, a critical aspect of top-tier SMP work..
Personalized Improvement Focus.
We address your specific areas of improvement. Whatever aspect of SMP you wish to enhance, our personalized training approach ensures you elevate your skills effectively.
Exclusive Tips from 6 Years of SMP Experience,
Benefit from personal advice and professional tips accumulated over a 6-year career in SMP. These insights are invaluable for anyone serious about advancing their SMP career.
Start a New Chapter in Your SMP Career
Whether you're looking to refine specific techniques or elevate your overall skill set, our training is a commitment to your success. With our dedication and your passion for changing lives, there's no limit to what you can achieve.