Fundamental SMP Training: Your Gateway to a Rewarding Career
Offering our Fundamental SMP Training. Learn from the best and start your new career today!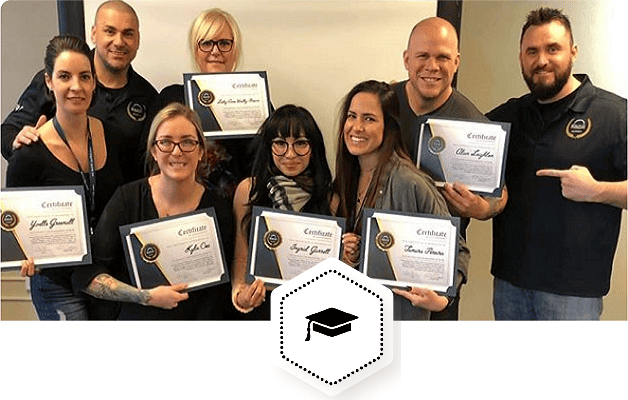 Embark on Your SMP Journey with Our 4-Day Core Fundamentals Training

Price: $5,600 CAD
Designed for beginners that want to start
a career in SMP.
Comprehensive SMP Theory and Core Fundamentals.
Dive deep into the world of SMP with our complete module on theory and core fundamentals. You'll not only learn the main theories behind SMP but also develop a real passion for this life-altering process.
Mastering Pressure and Technique.
Understand the art of applying the perfect 'sweet spot' pressure, along with mastering the use of SMP machines and techniques. These skills are crucial for achieving optimal results in SMP.
Blending and Fading Techniques
Learn the techniques of blending into transitional areas of shaved hair and mastering the fade technique. This skill is essential for achieving a natural and seamless look in SMP treatments.
Hairline Mapping and Design
Gain expertise in creating, mapping, and drawing natural hairlines. Learn to design various hairline styles like natural receded, round, widow's peak, and edge-up, ensuring perfect symmetry and form.
Density and Spacing Mastery
Understand the nuances of density and spacing across multiple sessions. We teach you how to achieve the full finished layering effect that looks natural and dense.
Hands-On Shadowed Practice
Practice proper pressure and technique on various materials that simulate different skin types, including melon, banana, synthetic skin, and paper.
Live Model Shadowing
Put your skills to the test with hands-on experience on a live model. I'll guide you through a full session, providing real-time feedback and advice.
Marketing and Business Promotion Skills
Learn effective marketing and promotion techniques to launch and grow your SMP business successfully. We cover everything from client acquisition to digital marketing strategies.
Photography Skills for Business
Discover expert tips on taking perfectly lit photos and videos for marketing purposes. High-quality imagery is key to attracting clients in the SMP industry.
5pm Shadow Professional SMP Kit Included
Receive a comprehensive SMP kit, including the 5pm Shadow Mast Archer, needles, pigment, and all necessary training supplies and materials.
Lifetime Support
Join our private Facebook group and have access to my personal contact information for ongoing support and advice whenever you need it.